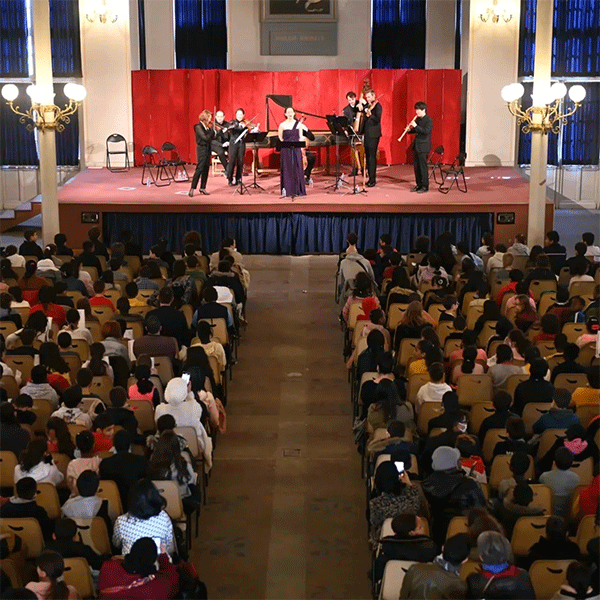 Cappella Mediterranea (2022) © FSD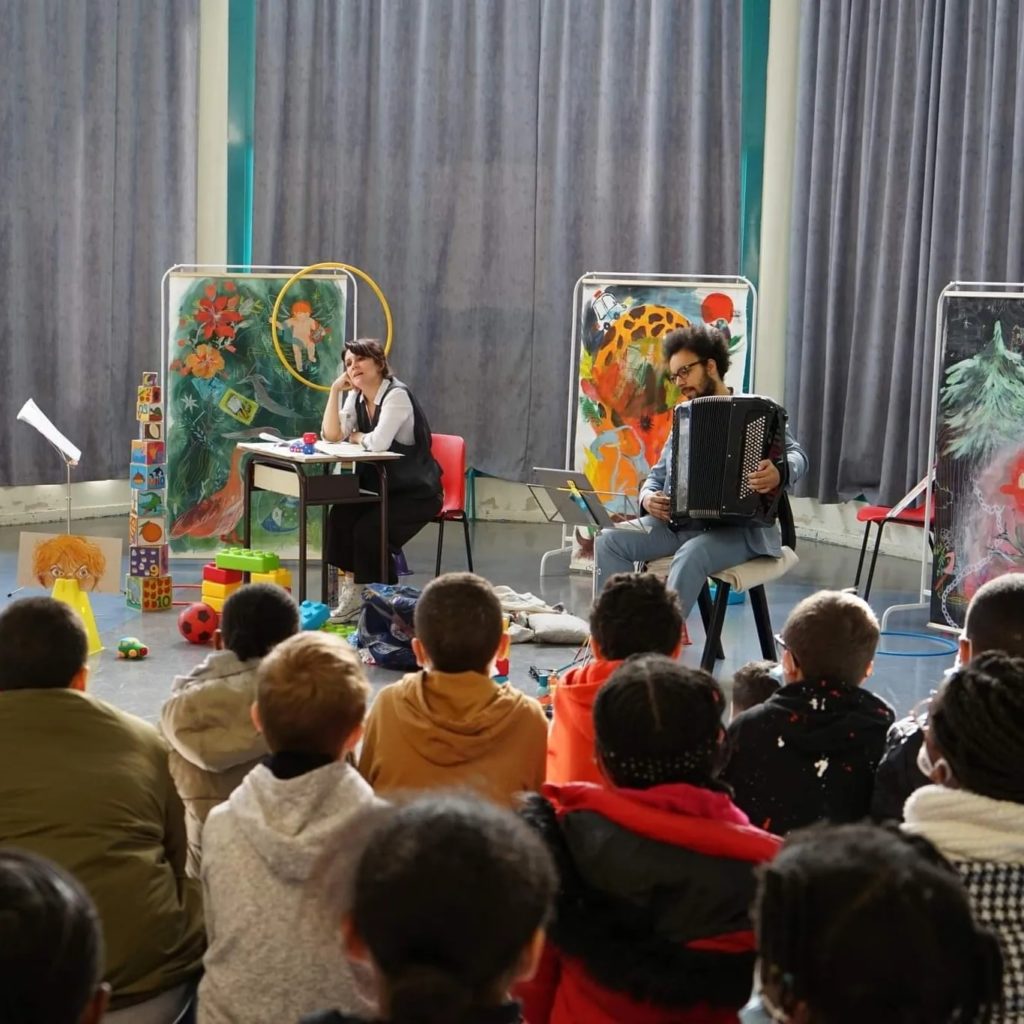 L'éducation des frissons (2022) © FSD
SCHOOL CONCERTS
The concerts for primary schools are returning to their regular format following a one-off event in 2020-2021 with 6 concerts for Plaine Commune primary schools.
• March 11th 2022 : 2 children's concerts in Plaine Commune schools : La Courte Paille by the L'éducation des Frissons theatre company directed by Camille Poul.
• March 21st and 22nd 2022 : 4 concerts by Cappella Mediterranea at the Maison d'éducation de la Légion d'honneur.
All classes attend 2 hour-long workshops run by Festival performers/participants as an introduction before the concert.
This project concerns 75 elementary classes in Plaine Commune. In total, 1600 students are participating in this project.
MUSIC AND ARCHITECTURE IN THE MIDDLE AGES
March – April : course around medieval music and architecture, for 2 classes of Plaine Commune, the schools Le Globe and Elsa Triolet of Stains.
The students will attend 2 workshops of musical practice with the Dialogos ensemble, directed by Katarina Livljanić, specialized in medieval music. This course will be completed by 2 workshops around the construction site of the Basilica of Saint-Denis, orchestrated by the association Suivez la flèche.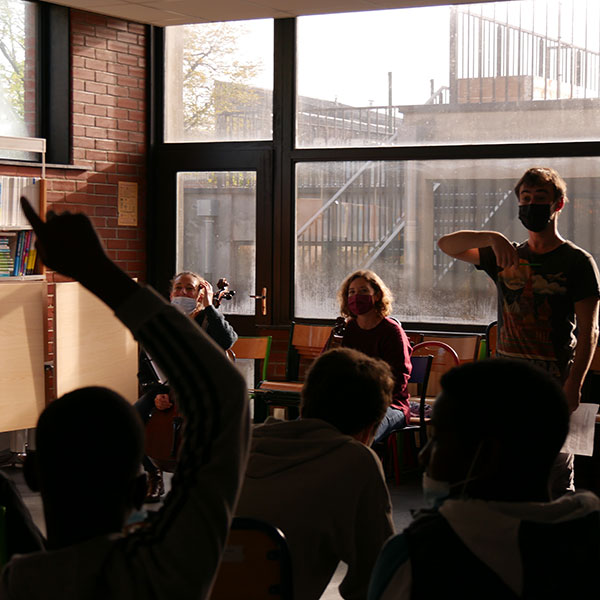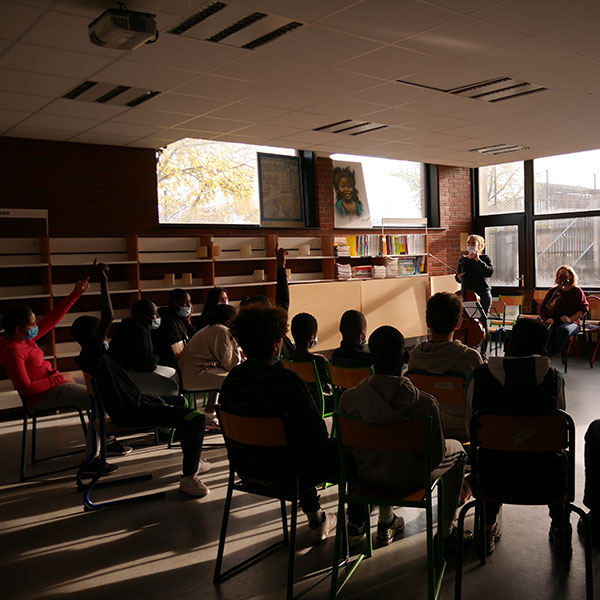 5 Plaine Commune secondary schools are taking part in Festival projects in 2022.
Two courses including classes and excursions are CAC-approved (Culture and Art in Secondary School) and supported by the Département de la Seine-Saint-Denis.
• The "Handel and Bach, the imaginary encounter between two baroque music giants" course for a year 9 class at Collège Pablo Neruda in Pierrefitte-sur-Seine.
• The "Improvisation and lyrics to music with the Orchestre National de France" course with vocational year 8 students at Collège Henri Barbusse in Saint-Denis.
This year the Saint-Denis Festival has joined forces with the British vocal ensemble Voces8 to introduce secondary school students to choral music. The Voces8 vocalists and their conductor Paul Smith will share their training method for singing with students from 15 classes.
The community project will end with a concert:
• Tuesday June 2022 at Saint-Denis Basilica as part of the Festival.
Please contact Béatrice Noiset to book tickets to the free concert
15 classes from all years in 3 local secondary schools are taking part in the project with Voces8:
• Collège La Courtille in Saint-Denis
• Collège Lucie Aubrac in Villetaneuse
• Collège Joséphine Baker in Saint-Ouen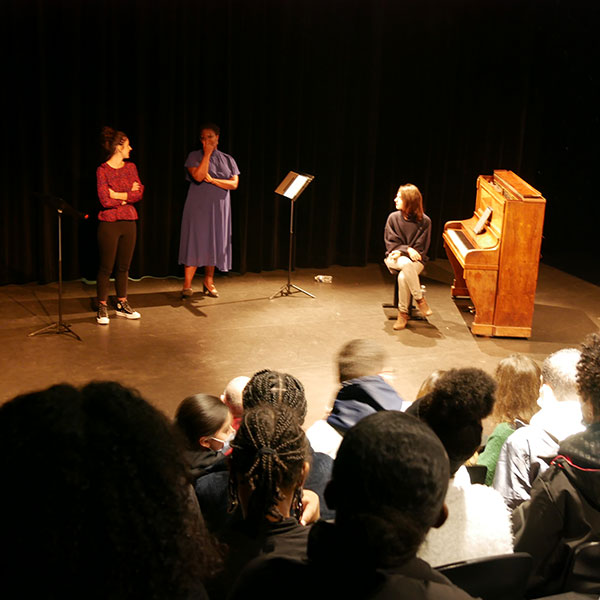 Cyrielle Ndjiki Nya, Marion Vergez-Pascal et Sarah Ristorcelli (2021) © FSD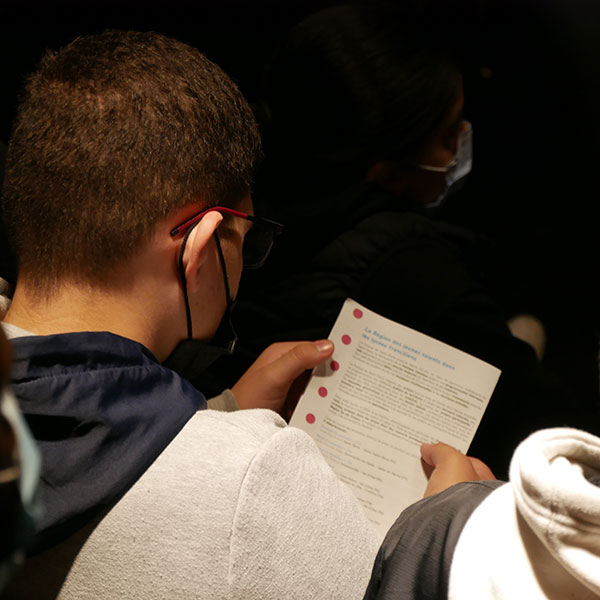 Concert lycée (2021) © FSD
"YOUNG TALENT" CONCERTS"
In Île-de-France highschools with the support of Région Île-de-France.
"Musical and architectural heritage" course in Île-de-France highschools with the support of the Région Île-de-France. There are 3 stages to the course: young talent concerts at the college, tour/workshop at Saint-Denis Basilica and an open rehearsal as part of the Festival.
8 colleges from 5 Île-de-France areas are taking part in the project :
• Lycée Charlotte Delbo in Dammartin-en-Goële (77)
• Lycée Les 7 Mares in Maurepas (78)
• Lycée Saint-Exupéry in Mantes-la-Jolie (78)
• Lycée Paul Eluard in Saint-Denis (93)
• Lycée Gabriel Péri in Champigny-sur-Marne (94)
• Lycée Fragonard in L'Isle-Adam (95)
• Lycée Fernand et Nadia Léger in Argenteuil (95)
• Lycée Romain Rolland in Goussainville (95)
The soprano Cyrielle Ndjiki Nya, mezzo-soprano Marion Vergez-Pascal and pianist Sarah Ristorcelli shall attend some colleges ; the soprano Axelle Fanyo and pianist Etienne Jacquet shall attend the others.
This project involves nearly 400 students in the region.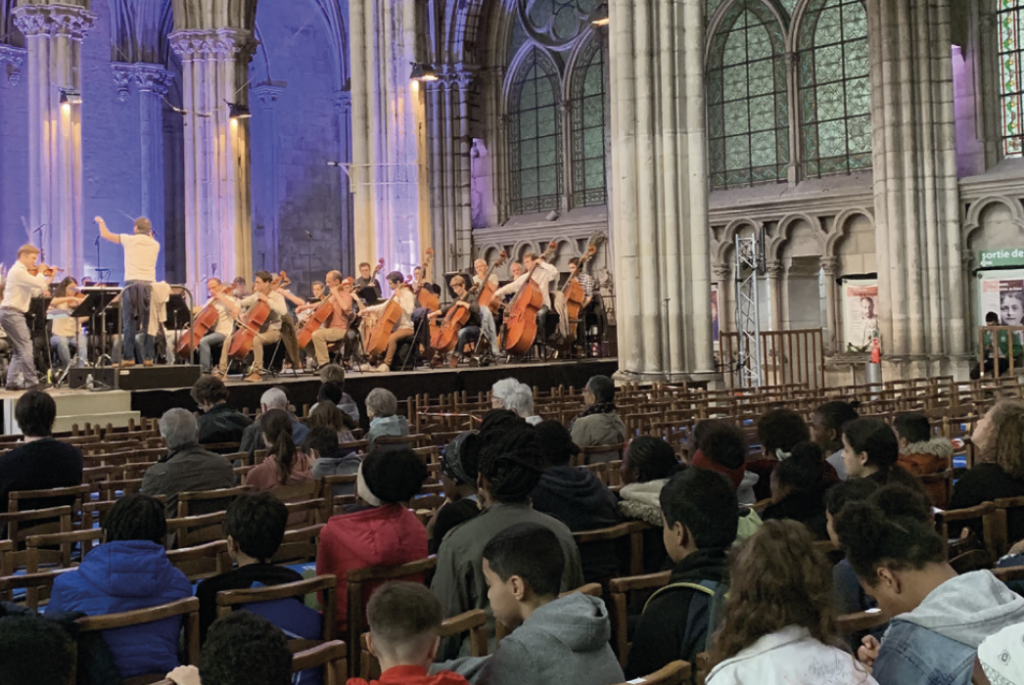 GENERAL CONCERTS OPEN TO SCHOOLS, music schools AND local ASSOCIATIONS
• 30 may 2022 : Rossini's Stabat Mater, with Orchestre Philharmonique de Radio France, conductor Myung-Whun Chung
• 6 june 2022 : Pergolesi's Stabat Mater, with Pretty Yende, conductor Louis-Noël Bestion de Camboulas
• 15 june 2022 : Cantatas by Bach, with Cappella Mediterranea, conductor Leonardo García Alarcón
• 23 june 2022 : Poulenc's Stabat Mater, with Orchestre National de Lille, conductor Alexandre Bloch