The Saint-Denis Festival puts the spotlight on educational activities with local music schools : Conservatoire à Rayonnement Régional in Aubervilliers – La Courneuve, Pôle Sup' 93, Plaine Commune Démos groups etc.
MASTERCLASSES AVEC LES ENSEMBLES ET LES ARTISTES EN RÉSIDENCE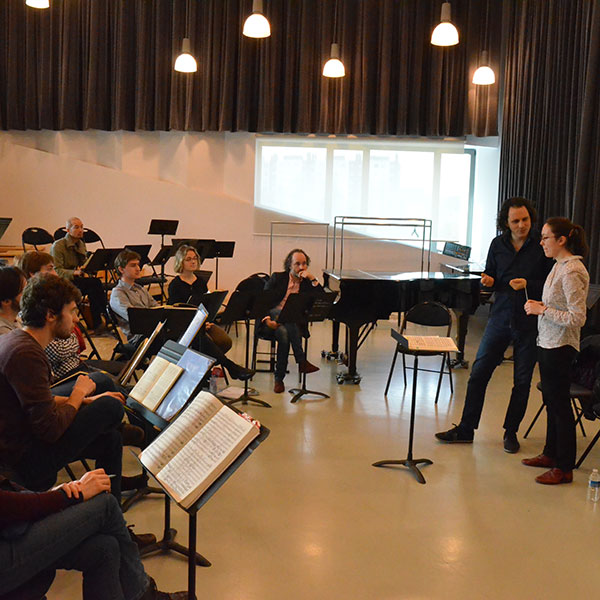 Alexandre Bloch au CRR 93 (2019) © FSD
MASTERCLASSES WITH ENSEMBLES AND ARTISTS IN RESIDENCE AT CRR 93 AND PÔLE SUP' 93 (TBC)
• At CRR 93 in Aubervilliers – La Courneuve
• Masterclass with Quentin Guérillot (organ, harpsichord) (TBC)
• Masterclass with the conductor Maxime Pascal (TBC)
• At Pôle Sup' 93 – La Courneuve
– Masterclass with a musician of Mahler Chamber Orchestra (TBC)
The Saint-Denis Festival runs masterclasses every year in collaboration with CRR 93 and Pôle Sup' 93 attended by countless artists : Véronique Gens, Karine Deshayes, Renaud Capuçon, Nathalie Stutzmann, Alphonse Cemin, Adrien La Marca and Alexandre Bloch.
COLLABORATION AVEC LES CONSERVATOIRES DE PLAINE COMMUNE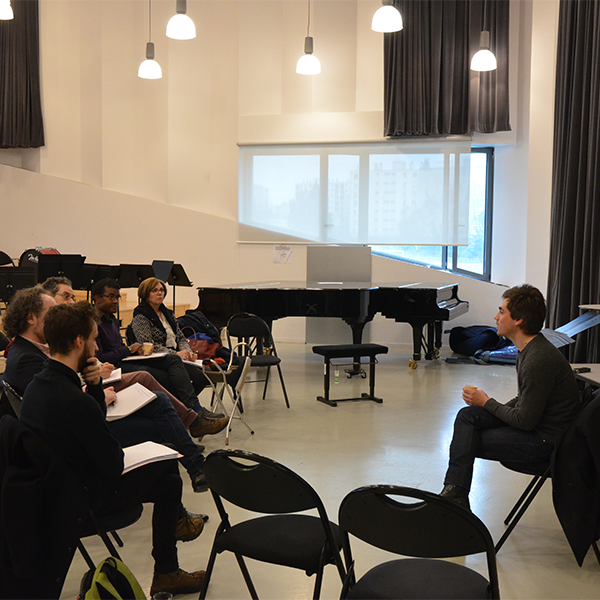 Henri Deléger (2018) © FSD
MEET & GREETS FOR MUSIC SCHOOLS
Events bringing different music schools together to explore teaching styles with Festival artists and designed for music school directors and teachers, participants, DEMOS coordinators etc.
with Clothilde Chalot of NomadPlay, a digital application that aims to make classical music accessible to as many people as possible via new technologies.
The Saint-Denis Festival organises meet & greets with countless artists every year. Previous events :
• in 2021, Leonardo García Alarcón director of the Ensemble Cappella Mediterannea, discussing the benefit of breaking down barriers between classical music and popular, traditional and world music
• in 2020, Chi-chi Nwanoku, double bass player and founder of the Chineke! Orchestra and Ann-Estelle Médouze, first violin at the Orchestre National d'Île-de-France discussing promoting diversity in classical music
• in 2019, Alexandre Bloch, musical director of the Orchestre National de Lille, discussing new technology and how it can benefit teaching and public relations
• in 2018, Henri Deléger, Le Balcon trumpet player, discussing local cultural activities
• in 2017, Christophe Mangou from the Ensemble Amalgammes discussing Soundpainting teaching
• in 2016, Clément Mao-Takacs, Secession Orchestra conductor, discussing the spread of classical music in Europe
• in 2014, El Sistema/Miami Music Project discussing Venezuelan music teaching methods
COLLABORATION AVEC LES GROUPES DÉMOS DE PLAINE COMMUNE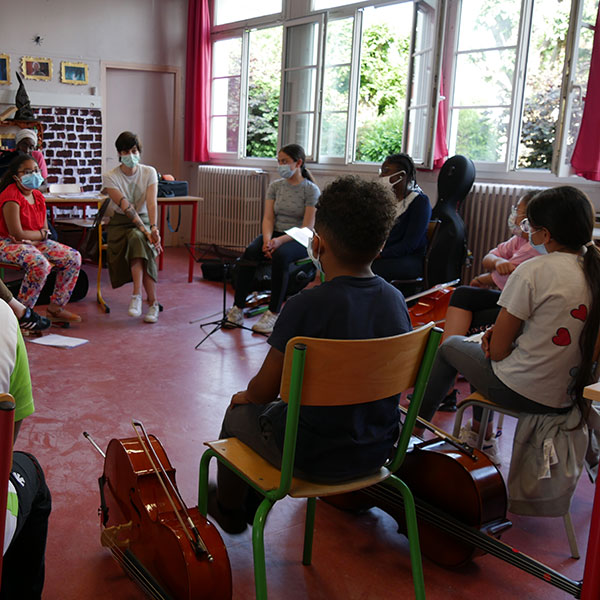 COLLABORATION WITH PLAINE COMMUNE DÉMOS GROUPS
Plaine Commune Démos groups meet artists performing at the Festival or Tournée Métis Plaine Commune every year. They are also invited to Métis concerts and open rehearsals for the Saint-Denis Festival.
COLLABORATION AVEC LES CONSERVATOIRES DE PLAINE COMMUNE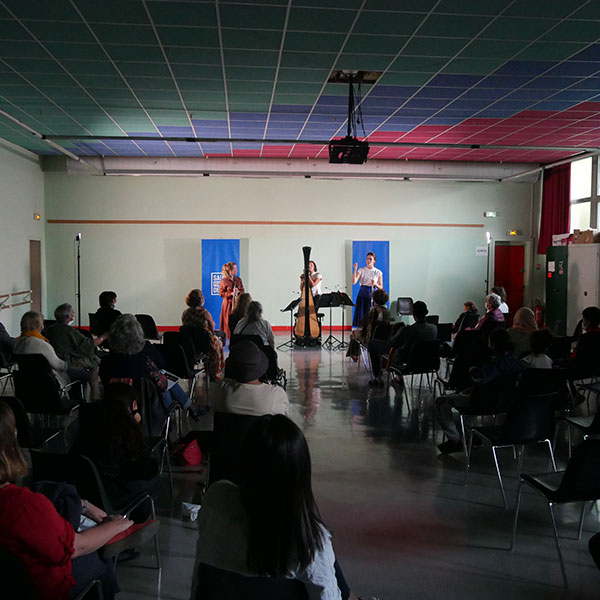 Concert quartier à Saint-Denis (2021) © FSD
SAINT-DENIS MAISONS DE QUARTIER CONCERTS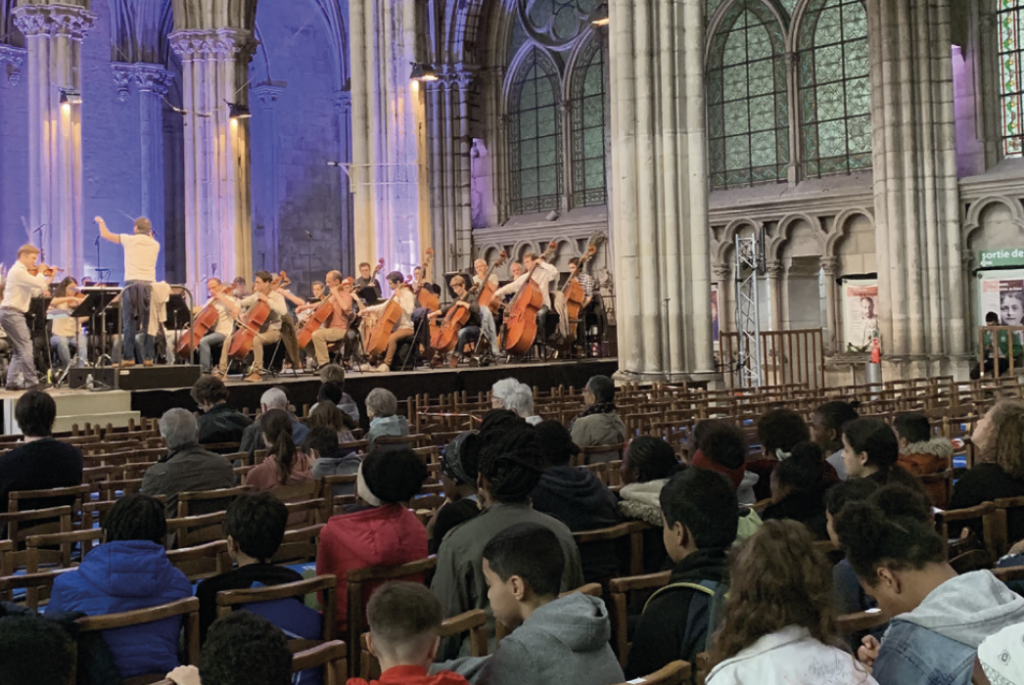 GENERAL CONCERTS OPEN TO SCHOOLS, music schools AND local ASSOCIATIONS
• 30 may 2022 : Rossini's Stabat Mater, with Orchestre Philharmonique de Radio France, conductor Myung-Whun Chung
• 6 june 2022 : Pergolesi's Stabat Mater, with Pretty Yende, conductor Louis-Noël Bestion de Camboulas
• 15 june 2022 : Cantatas by Bach, with Cappella Mediterranea, conductor Leonardo García Alarcón
• 23 june 2022 : Poulenc's Stabat Mater, with Orchestre National de Lille, conductor Alexandre Bloch