YOUNG TALENT AT THE SAINT-DENIS FESTIVAL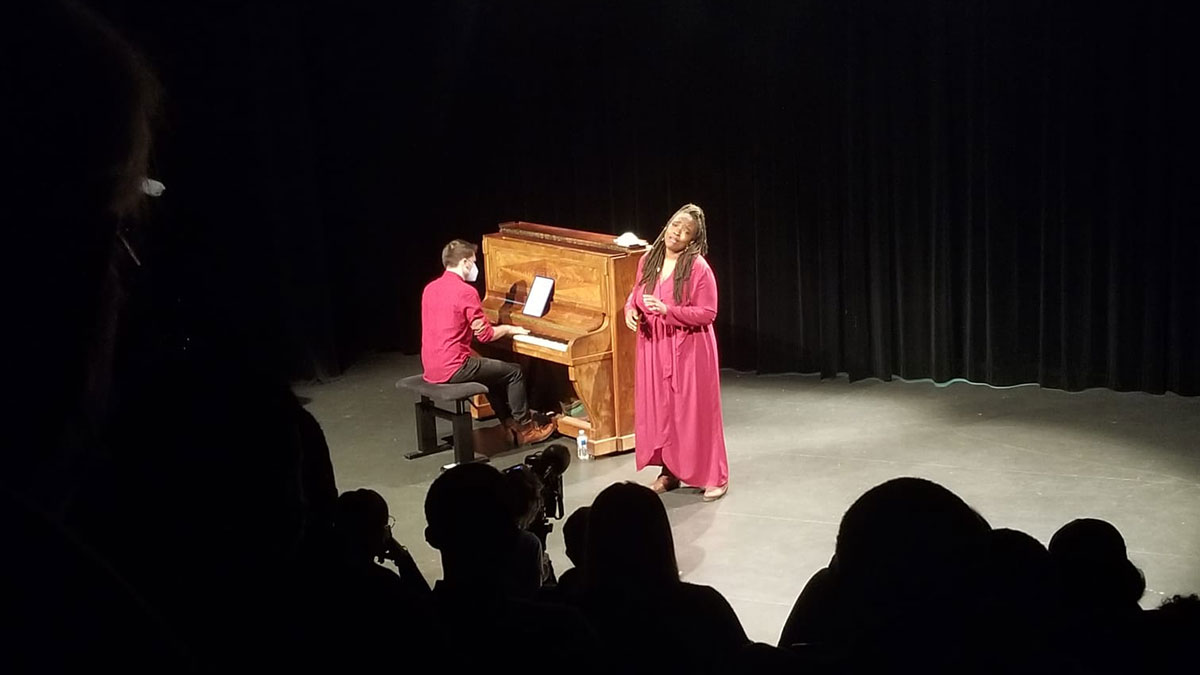 Axelle Fanyo and Etienne Jacquet (2021) © FSD
In Île-de-France colleges with the support of Région Île-de-France
True to its tradition of supporting young vocalists, the Festival has been introducing young opera artists to colleges since 2018 with special concerts supported by Région Île-de-France.
Classes attend an introductory session run by a Festival artist/participant before the concert.
This cultural experience is an opportunity to communicate and designed to introduce college students to the world of classical music and a national landmark with a trip to the Saint-Denis Basilica which hosts countless talented vocalists every year for the Festival (soloists and choirs). College students end the course with a concert or open rehearsal at the Basilica.
The following artists have attended colleges :
Raphaëlle Moreau (violin), Angèle Chemin (soprano) and Annabelle Jarre (harp) in 2018-2019

Camille Poul (soprano), Timothée Varon (baritone) and Sarah Ristorcelli (piano) in 2019-2020

Julia Baumier (soprano), Laure Ilef (mezzo-soprano), Constance Taillard (harpsichord and organ), Axelle Fanyo (soprano) and Étienne Jacquet (piano) in 2020-2021

Cyrielle Ndjiki Nya (soprano), Marion Vergez-Pascal (mezzo-soprano), Sarah Ristorcelli (piano), Axelle Fanyo (soprano) and Étienne Jacquet (piano) in 2021-2022

Anne-Laure Hulin (soprano), Apolline Raï-Westphal (soprano), Axelle Saint-Cirel (mezzo-soprano) and Mao Hayakawa (piano) in 2022-2023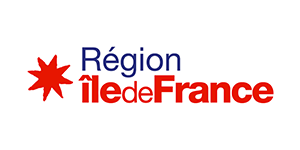 The Saint-Denis Festival hosts events to introduce its schedule to different audiences throughout the region all year round. It showcases famous artists alongside up-and-coming talent to help support the new generations of musicians, conductors and soloists.
These rising stars are often the first point of contact for the Festival's many educational activities. Their youth and talent make the events a success as it is easier to make a connection with new generations of audiences.
In the last 10 years, the Festival has been supported by the likes of :
Edgar Moreau and David Kadouch since 2012,

Marianne Crebassa, Julie Fuchs and Adam Laloum since 2013,

Jean Rondeau since 2015,

Thomas Dunford since 2016,

Adrien La Marca since 2017,

Lea Desandre and Raphaël Sévère in 2018,

Raphaëlle Moreau, Sélim Mazari, Lucienne Renaudin Vary, Fiona Monbet since 2019,

Kévin Amiel, Marie Perbost et Trio Sōra in 2020,

Raquel Camarinha and Adèle Charvet in 2021,

Alexandre Kantorow, Jean-Paul Gasparian and Thomas Enhco in 2022.

and the following ensembles :
Pygmalion/Raphaël Pichon since 2013,

Le Balcon/Maxime Pascal and Secession Orchestra/Clément Mao-Takacs since 2014,

La Tempête/Simon-Pierre Bestion since 2017,

La Chapelle Harmonique/Valentin Tournet since 2019,

Nouvelles Portées/Marc Hajjar et Victor Jacob, La Symphonie de Poche/Nicolas Simon, Contraste/Arnaud Thorette et Johan Farjot in 2020,

Le Consort/Justin Taylor in 2021,

Concert de la Loge/Julien Chauvin in 2022.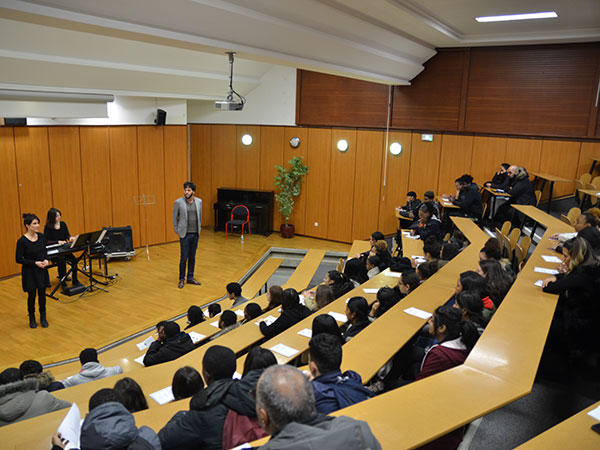 Camille Poul, Timothée Varon and Sarah Ristorcelli (2020) © FSD
Raphaëlle Moreau (2019) © FSD