The Saint-Denis Festival puts the spotlight on educational activities with local music schools : Conservatoire à Rayonnement Régional in Aubervilliers – La Courneuve, Pôle Sup' 93, Plaine Commune Démos groups etc.
MASTERCLASSES WITH ENSEMBLES AND ARTISTS IN RESIDENCE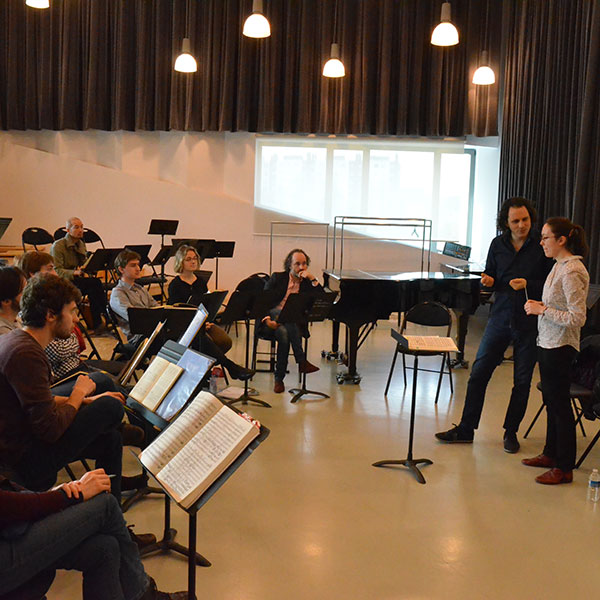 Alexandre Bloch in CRR 93 (2019) © FSD
MASTERCLASSES WITH ENSEMBLES AND ARTISTS IN RESIDENCE
• At CRR 93 Aubervilliers – La Courneuve
– 1 violin masterclass with Agnès Pyka (Ensemble Des Équilibres)
– 1 singing masterclass with Nahuel di Pierro (bass)
• At Pôle Sup' 93 – La Courneuve
– 1 violin masterclass with Julien Chauvin (Concert de la Loge)
COLLABORATION AVEC LES CONSERVATOIRES DE PLAINE COMMUNE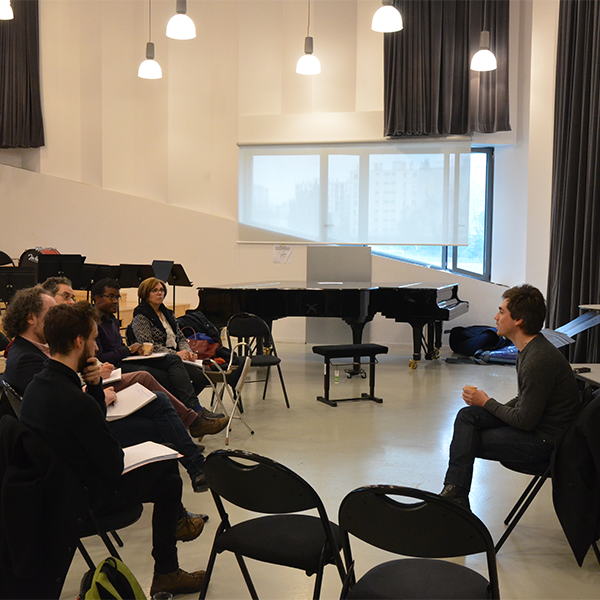 Henri Deléger (2018) © FSD
COLLABORATION WITH MUSIC SCHOOLS OF PLAINE COMMUNE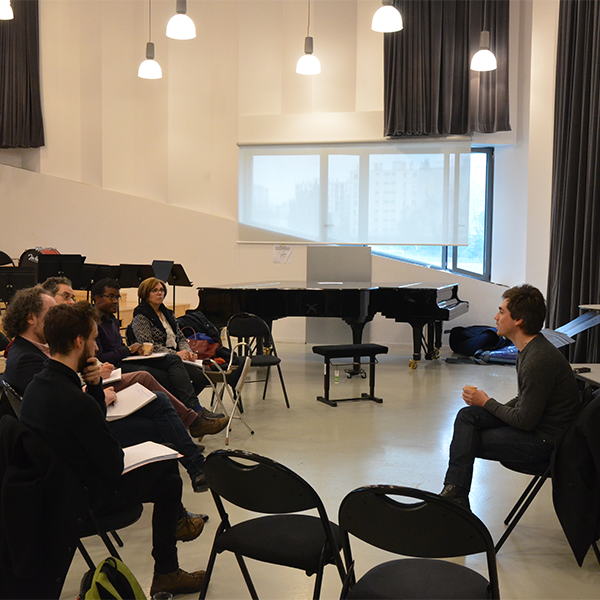 Henri Deléger (2018) © FSD
• Meet & greets
Events bringing different music schools together to explore teaching styles with Festival artists and designed for music school directors and teachers, participants, DEMOS coordinators etc.
In 2023 :
• Tuesday, June 6 : meeting with Angèle Legasa on the place of women in music and on the integration of young musicians into the current musical world
The Saint-Denis Festival organises meet & greets with countless artists every year. Previous events :

• in 2022, with Clothilde Chalot of NomadPlay, a digital application that aims to make classical music accessible to as many people as possible via new technologies.
• in 2021, Leonardo García Alarcón director of the Ensemble Cappella Mediterannea, discussing the benefit of breaking down barriers between classical music and popular, traditional and world music
• in 2020, Chi-chi Nwanoku, double bass player and founder of the Chineke! Orchestra and Ann-Estelle Médouze, first violin at the Orchestre National d'Île-de-France discussing promoting diversity in classical music
• in 2019, Alexandre Bloch, musical director of the Orchestre National de Lille, discussing new technology and how it can benefit teaching and public relations
• in 2018, Henri Deléger, Le Balcon trumpet player, discussing local cultural activities
• in 2017, Christophe Mangou from the Ensemble Amalgammes discussing Soundpainting teaching
• in 2016, Clément Mao-Takacs, Secession Orchestra conductor, discussing the spread of classical music in Europe
• in 2014, El Sistema/Miami Music Project discussing Venezuelan music teaching methods
• Invitations to Métis Plaine Commune concerts and open general rehearsals of the Saint-Denis Festival
TBC
• 3 concerts in the neighborhood houses of Saint-Denis with students from the Pôle Sup'93
September 28 – Floréal neighborhood center: La Cavatine
October 5 – Sémard community center: Trio Linos
October 21 – Franc Moisin community center: Tango for two
• Auditions for Les Petites Mains Symphoniques
Organization of auditions in connection with the association Petites Mains Symphoniques, to allow students to participate in the concert given on June 2 at the Basilica, as part of the Saint-Denis Festival.
COLLABORATION WITH PLAINE COMMUNE DÉMOS GROUPS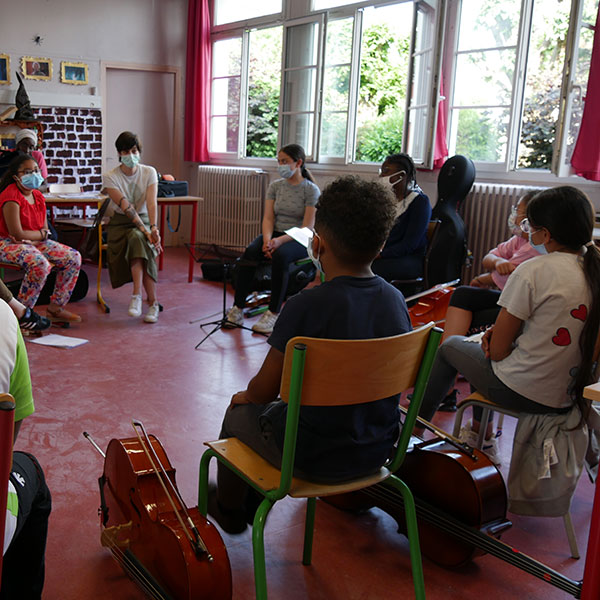 COLLABORATION WITH PLAINE COMMUNE DÉMOS GROUPS
• Privileged meetings
Between the artists in residence and the DEMOS orchestras
• Upstream meetings
of certain concerts with the artists of the Métis tour
• Invites
at the Métis concerts and open general rehearsals of the Saint-Denis Festival
COLLABORATION AVEC LES CONSERVATOIRES DE PLAINE COMMUNE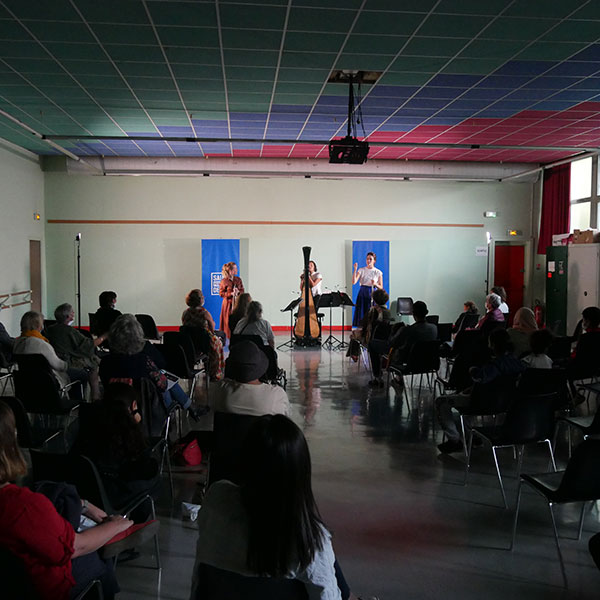 Concert quartier à Saint-Denis (2021) © FSD
SAINT-DENIS MAISONS DE QUARTIER CONCERTS
GENERAL CONCERTS OPEN TO SCHOOLS, MUSIC SCHOOLS AND LOCAL ASSOCIATIONS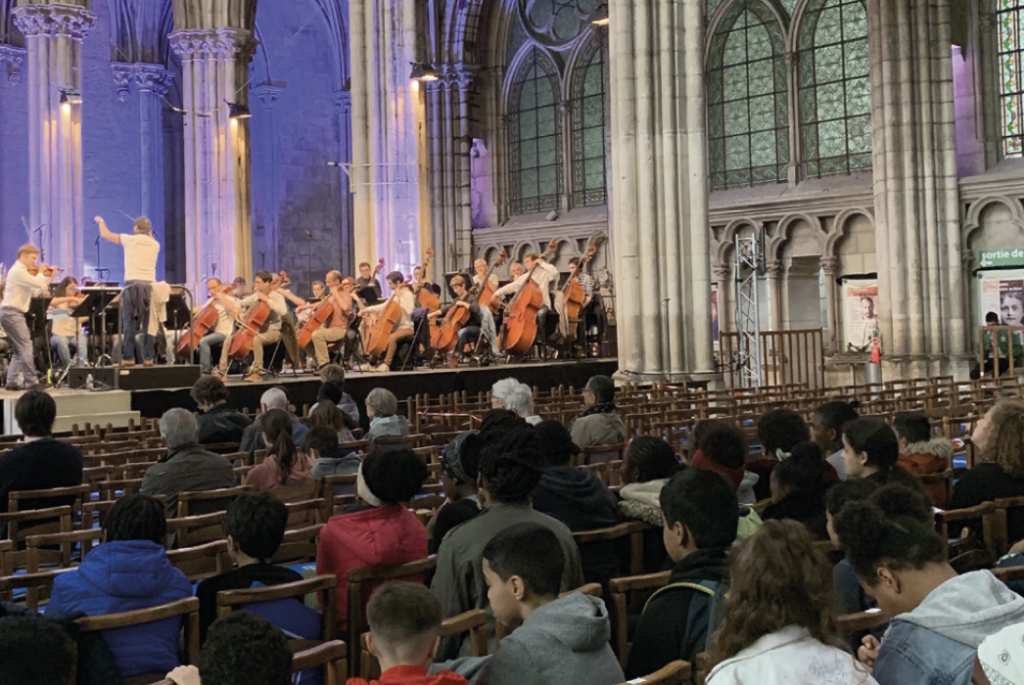 GENERAL CONCERTS OPEN TO SCHOOLS, music schools AND local ASSOCIATIONS
• June 5, 2023: La Création by Haydn with the Concert de la Loge, dir. Julien Chauvin
• June 8, 2023: Beethoven's 5th with the Mahler Chamber Orchestra, dir. Andris Nelsons
• June 20, 2023: Queens and heroines with Jeanine De Bique and the Concerto Köln (TBC)
• June 26, 2023: Celtic Beethoven with the Orchestre National de Bretagne, Carlos Núñez, Bryn Terfel, dir. Grant Llewellyn