The Saint-Denis Festival may be a classical music festival but it has always avoided labels and hierarchy between musical styles so it can showcase the performers and conductors chosen solely for their talent. This year's schedule is no different.
Three Stabat Maters are presented this year to reflect the history of western music : Pergolesi, Rossini and Poulenc. Baroque, classical and 20th century.
Brought to you by top performers and orchestras : the Pretty Yende with Les Surprises for Pergolesi, Myung-Whun Chung conducting the Philharmonique and Chœur de Radio France in Rossini, Jodie Devos, the perfect soprano for Poulenc, conducted by Alexandre Bloch with his Orchestre National de Lille and Chœur de l'Orchestre de Paris.
Three early music ensembles are on the program for this edition : Les Surprises (conductor Louis-Noël Bestion de Camboulas) already mentioned as well as Cappella Mediterranea (conductor Leonardo García Alarcón) and the Concert de la Loge (conductor Julien Chauvin) to celebrate Bach and Vivaldi at the Basilica and Légion d'honneur.
Several concerts commit us to go beyond traditional musical boundaries. Ibrahim Maalouf and his new Free Spirit Ensemble bring improvisation back to classical music with Gautier Capuçon and the conductor Johanna Malangré as partners. The magic duo Birds on a Wire alias Dom la Nena and Rosemary Standley are working with Maîtrise de Radio France and their musical director Sofi Jeannin on a new piece. Last but not least, the appearance on the Basilica stage of MC Solaar, a French rap pioneer, alongside the musicians of the Orchestre national d'Île-de-France conducted by Fiona Monbet, is a great first.
As for chamber music, the piano is in the spotlight this year ; we will have the unique opportunity to listen to the Légion d'honneur Sir Simon Rattle at the piano alongside Magdalena Kožená. The younger generation will be represented by pianists Alexandre Kantorow, Jean-Paul Gasparian and also violinist Liya Petrova.
Musicians have always travelled outside their homelands. Very early on, they circulated throughout Europe for their activity. So it's only natural that the Festival supports the application by Saint-Denis, Plaine Commune and Seine-Saint-Denis to be the European Capital of Culture. The Mahler Chamber Orchestra, which Claudio Abbado founded as an orchestral project bringing together musicians from all over Europe, will symbolise the Festival's European vision for our region from June 2022 and at future events.
Let's celebrate music and the 54th Saint-Denis Festival !
Nathalie Rappaport
Director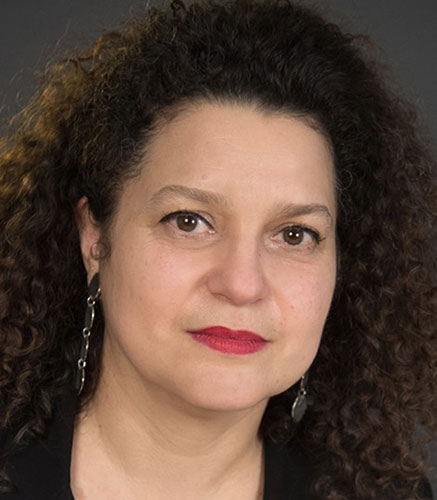 The Saint-Denis Festival supports Périféeries 2028, the application by Saint-Denis, Plaine Commune and Seine-Saint-Denis to be the European Capital of Culture in 2028.